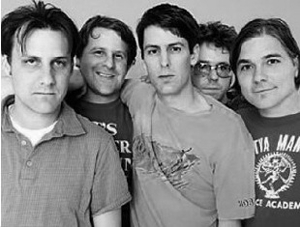 No genre of music has aged quite as poorly as '90s indie rock. Pavement is one of the few exceptions to this rule. When one of its albums is stacked up against an Archers of Loaf or Superchunk release from an identical year, Pavement's long-term worth and quality shines through. In Rob Jovanovic's 2004 book, Perfect Sound Forever: The Story Of Pavement, the discussion of the band's third album, Wowee Zowee, begins on page 147 and ends about 11 pages later. This exemplifies how well the past 11 years have treated this Pavement album—which is every bit as good as the band's debut, Slanted and Enchanted, and far superior to its predecessor, Crooked Rain. It remains a fan favorite and has about a 50-percent approval rating with critics. Hopes at Warners—the company handling distribution for Pavement's indie label, Matador, at the time—were high for Wowee Zowee. But the record didn't have a radio-ready follow-up to Crooked Rain's cult hit "Cut Your Hair," and this generally confused industry folks who expected as much. (Beginning an album with a weird folk-rock ditty like "We Dance" will do that.) At a time when Pavement had just transformed from a club act into a theater band—when alternative-X-station meatheads moshed to "Cut Your Hair" when it was begrudgingly traipsed through each night—the band made an album that flew over the heads of a lot of people who probably wouldn't have benefited the band as converts anyway.
Recorded in Memphis at Easley McCain Studios, which played a key role in the era's underground-rock explosion (and, sadly, succumbed to a fire in 2005), Wowee Zowee carries the loose, homey feeling that made the affordable studio relatively legendary (Sonic Youth would follow Pavement to Easley McCain to record Washing Machine). It was the first Pavement album completed as a band effort, without geographical differences being a part of the recording process. All five members—Stephen Malkmus, Scott Kannberg (aka Spiral Stairs), Steve West, Bob Nastanovich and Mark Ibold—were appearing together in promo photos and on stage, something the success of Crooked Rain seemed to solidify. On Wowee Zowee, they'd skipped the Mark E. Smith/Fall worship that was prevalent on Slanted and Crooked Rain (though, even if they hadn't, it would've still preceded the viral outbreak of post-punk bottom feeding by eight years). The influences on Wowee Zowee—the Groundhogs for example, a Malkmus obsession at the time—are far more subtle; They're scattered across the album rather than being the focus of single tracks.
Two songs on Wowee Zowee, "Grounded" and "Kennel District,"  are cut from the special catchiness Malkmus and Kannberg could toss off with little effort (though they restrained from doing so on a regular basis, sometimes through entire albums). And "Flux = Rad" was classic mid-'90s garage punk by a band that was anything but garage punk. The song was a minute-and-a-half of antagonism otherwise absent from this laidback album. "Rattled by the Rush, "the "focus" track, flopped, though not due to the odd little pop song's lack of greatness.
Unless you passed up the album the first time around, the extras included here—a full CD-and-a-half's worth—are the real reason to get on board. Combined with the original album's Steve Keene artwork (his assembly-line paintings being the era's hipster equivalent to the frat boy's neon beer wall presentation), the package is a partial time capsule, containing fragments of the culture's peripherals and its flirtations with relative fame, as shown by inclusions from the I Shot Andy Warhol and Kids in the Hall: Brain Candy soundtracks and the Schoolhouse Rock! compilation. It must be noted that participating in a Descendents tribute album was a unique choice for the time, even if the hazy, tape-hiss appropriation of "It's a Hectic World" alienated some fans of the mall-punk originators. All the requisite b-sides and outtakes are also included. Go straight to Kannberg's excellent "Mussle Rock," then enjoy "Soul Food," a jam session with Doug Easley. The concurrent Pacific Trim EP is also here, but the meat of the affair is live material: Alert BBC Sessions performances and songs recorded in Australia and at the Hilversum in Holland all present a band that was, maybe for the first time in its career, "tight." One can safely wager that this will be the last Pavement album afforded the luxurious Matador reissue treatment also given Slanted and Enchanted and Crooked Rain. Barring the memorable rocker here and there, Brighten the Corners (1997) and Terror Twilight (1999) were albums made by a band that no longer felt like being a band. Today's left-field rock lays a heavy reliance on previous decades, especially the '80s, and this has saturated the current scene with bands that simply copy 20-year-old music and add nothing to it. But this behavior is brazenly absent from Wowee Zowee, an album that manages the miracle of sounding very much like 1995 without sounding dated.